Let's discover the StrideFree tree with Peter Horobin
10 reasons why a rider should choose StrideFree
10 reasons why you should invest in a StrideFree saddle by Peter Horobin Saddlery
1. The StrideFree® tree, has been designed to allow complete freedom of the horses' shoulder movement. This will allow lengthened stride and can also give the horse a more comfortable and productive workout.
2. All Peter Horobin Saddles have extra soft seats and are comfortable for the rider.
3. Wool flocked and easy to adjust. Natural, breathable and sustainable product that moulds to the horses' shape and movements.

4. Adjustable on site, a dream for every saddle fitter, convenience for any rider and suitable for any horse.
5. Short backed panels for short backed horses
6. Our saddles have various options in girth positioning to suit various shapes of horses and saddle positioning.
7. All our PHS certified saddle fitters are horse people. They have lived a life of horsemanship and therefore passionate about their craft.
8. Peter Horobin saddles are made from high quality hides that are ethically tanned from award-winning tanneries throughout Europe. Tanneries that use environmentally friendly and modern production infrastructure in accordance with high quality standards.
9. We cover all disciplines, dressage, showjumping, eventing, trail riding, hacking out, showing, endurance and racing. We can fit any horse with any saddle, anywhere.
What are the benefits of a StrideFree tree?
When we discuss saddles of any type, there usually follows a conversation of the saddle tree. The StrideFree® tree, has been designed to allow complete freedom of the horses' shoulder movement. This will allow lengthened stride and can also give the horse more comfort when in motion.

The horses' forelimbs are considered to be attached by a 'false joint'. Only soft tissue structures (muscles and fascia) hold the forelimbs to the trunk (horses lack of a collar bone), thus any restriction of those structures can impede full range of motion through extension and retraction of the limb. The top portion of the scapula is a cartilage cap, and the rest is bone. The thin trapezius muscle which has both a cervical and thoracic portion plays a role in forelimb attachment and movement, and also houses sensitive nerves, which when triggered can cause a hollowing of the back and raising of the head, as well as pain in the surrounding area and behavioural or training problems. Your common half trees and full trees, whether steel or wood, hang on to this area, directly affecting the spine and nerves causing pain and influencing performance.
This is why the StrideFree® philosophy has become one of the most important cogs in the wheel of equestrian saddles. Ultimately, when a StrideFree® tree is used every day in comparison to other trees, it can assist and improve on performance.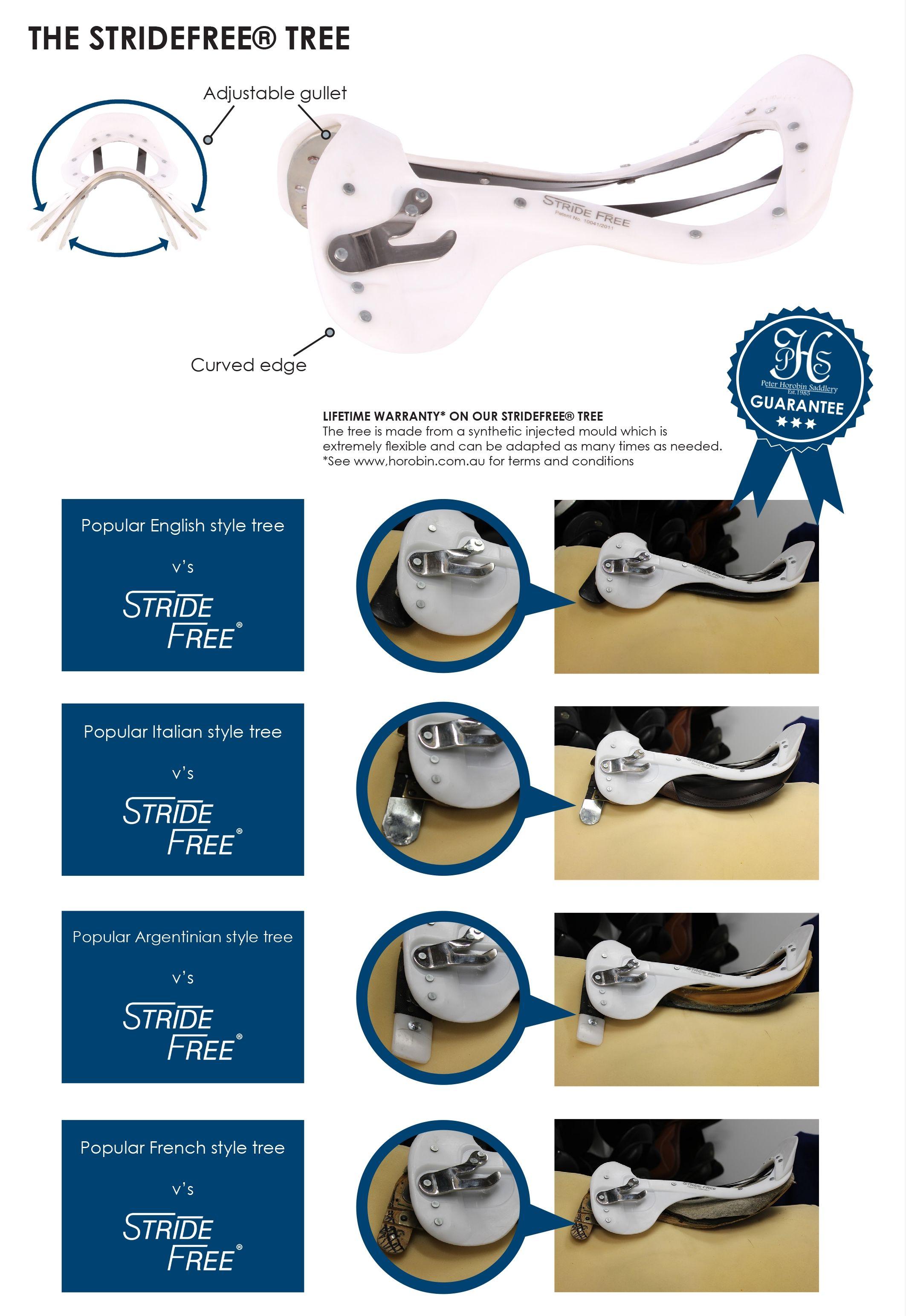 What does an adjustable gullet mean for a StrideFree saddle?
All of our saddles have an adjustable gullet that can be easily adjusted onsite with a gullet machine by any good saddle fitter. We've designed our saddles to fit the ever changing shape of the horse. Our saddles can also be readjusted to go from one horse to another horse.
What are the benefits of a wool flocked panel?
Wool flocked panels are incredibly beneficial for the horse's back. We use quality wool sourced sustainably from either European, Australian or New Zealand suppliers.
Being a natural product, it is not only a sustainable resource, but it moulds to the horses' back providing them with the comfort they need under saddle to develop and move forward. Wool flocked panels can also be easily re-flocked without needing to pull the saddle apart, and call be done onsite. See our wool flocked panel video here
Wool is a natural, breathable and sustainable product that moulds to the horses' shape and movements. The wool can be easily removed from the panels or more wool can be packed into the panels to create the right fit for you and your horse.
Why buy a saddle from Peter Horobin Saddlery?
Peter Horobin Saddlery is an Australian owned company based on the Mornington Peninsula in Victoria, Australia. We have been operating for 35 years, and sell our saddles globally across Europe, USA, UK, Japan, South Africa and New Zealand. Our philosophy behind our saddle designs is equine back health focusing on horse biomechanics. Our saddles are handcrafted using quality leather and materials. Our StrideFree® range of saddles are built upon our revolutionary StrideFree® tree that allows complete shoulder movement in the horse, shown to increase their stride length. We provide quality saddles for the dressage, show jumping, eventing, endurance, pony show ring and racing industry, as well as the every day pleasure rider. We know that once you ride in a Peter Horobin saddle, you'll always ride in a Peter Horobin saddle.
Second-hand or new?
It really just depends on you and your budget.
We greatly encourage pre-loved saddle sales as a budget friendly and sustainable option, as we do our bit to reduce environmental impact with the 3 R's - Reduce, Reuse and Repair. A well looked after Peter Horobin saddle holds their value. Our saddles are designed and manufactured to last many years. Our hope is for our saddles to be passed down to the next generation of rider. All Peter Horobin saddles can be adjusted in the gullet, panels can be re-flocked and repairs can be made. A pre-loved PHS saddle is a nice introduction to our range if you are new to Peter Horobin saddles.
Of course, we like to encourage new saddle sales too. In particular, our StrideFree® saddles which have our revolutionary StrideFree® tree that has a lifetime warranty on the tree*. Our StrideFree® saddles are impressing equestrians all around the world as they discover how much their horses' improve in wellbeing and stride length when riding in a StrideFree® saddle.
*Read our Terms and Conditions
When should I buy a Peter Horobin saddle? My horse is only young and still growing.
It is very important to have a saddle custom made when you start riding your horse. At their most important time of development, purchasing a custom made saddle will support correct muscle development. As our saddles are fully adjustable, they can be altered and refitted as the horse changes shape.
Can you purchase a Peter Horobin Saddle outside Australia?
Yes, a Peter Horobin saddle can be purchased outside of Australia. Find your nearest PHS Representative to learn more.
How do I know if my current saddle fits?
Take a few minutes to fill out our online remote saddle fitting form. We can assess all brands of saddles. If assessing a Peter Horobin saddle, our service is complimentary. Other brands of saddles for an online assessment will attract a fee of $49.95.
Once we receive your online saddle fitting form, a member of the Peter Horobin Saddlery team will get in touch with you to discuss the fit and if any adjustments are required. There will be a fee for any adjustment work carried out.
If you are located outside of Australia, find your nearest PHS Representative to assist with your saddle fit.
How does an online remote saddle fitting work? How can you tell if my saddle fits just by looking at a photo?
This is a good question! With many years of industry experience, assessing and fitting thousands of saddles, Peter and his team have an excellent eye for detail in assessing saddles via photographs and video. We've successfully custom made and fitted many saddles through our remote saddle fitting service, resulting in very happy customers ... and horses.
We're very confident in our online remote saddle fitting service, so encourage you to organise one if Peter, Rhys or our certified saddle fitters cannot travel to your region.
If you are located outside of Australia, find your nearest PHS Representative to assist with your saddle fit.
We only recommend PHS Certified Saddle Fitters for your Peter Horobin saddle fit and adjustment, and will not warrant* any saddles that have been adjusted by a saddle fitter that is not a PHS Certified Saddle Fitter.
*Read our Terms and Conditions
How long do I have to wait for a Peter Horobin saddle?
If you're lucky, we may have just the right saddle for you in stock ready for immediate shipment. However, generally the wait time for a brand new, custom-made saddle is 10-12 weeks.
"Why do I have to wait so long?", I hear you ask.
Each saddle is custom made with precision and care, unique to your specifications. There is no one size fits all saddle that we can just take off the shelf. Your Peter Horobin Saddle is carefully handcrafted and with this, takes time.
We promise that your beautiful Peter Horobin saddle will be worth the wait!
How is my horse measured for a new saddle?
Option 1: Onsite saddle fit. Depending on your location, if there is a PHS Representative that can get to you, your horse can be measured up and your saddle order can take place onsite. Discover our PHS Representatives to find one nearest to your region.
Option 2: In Australia, we also have remote saddle fitting kits which are easy and convenient. We provide simple step by step instructions with everything you need to take measurements of your horse. With a self-addressed express post bag, everything is convenient to suit your busy lifestyle and remote location. Once we receive your measurements we can begin the process of ordering your custom made saddle.
Is there a payment plan?
Of course! Once a 50% deposit is paid, you can then make payments in instalments right up until your saddle is complete. We also now offer Zip Pay/Zip Money for Australian customers. Give us a call on (03) 5975 1055 to discuss your options. International saddle orders will have different payment policies, so speak to your PHS representative in your region.
How do I buy a StrideFree® Racing saddle?
You can order StrideFree® Racing saddles online, or simply phone our office on 03 5975 1055 to place your order.
If you are wanting a custom made saddle that you've ordered online, phone us or email through your specifications to orders@horobin.com.au, after you've placed your online order.
I live outside of Australia. How can I purchase a StrideFree® Racing saddle?
Our online shop is open to select countries around the world which includes New Zealand, South Africa and Japan. In other regions of the world, you can order your race and exercise saddles from one of our International StrideFree® Racing Stockists.
What sort of warranty do I have with my Peter Horobin Saddle?
Once you have received your equestrian saddle please fill in your warranty registration here.
If you have purchased a race saddle you can fill in your warranty registration here.
Visit our Terms and Conditions for full warranty details on both our leather warranty and our StrideFree® tree warranty.
What am I signing up for when I sign up to your database?
If you would like to visit our privacy policy please do so via the link. We have updated our policy to be compliant with the current GDPR. You can also view full terms and conditions.