Grand Prix Dressage Rider and Level 2 Dressage Coach, Charlotte Pedersen.
So many people are flocking to Australia's beautiful shores from Europe and other countries, to settle and bask in the idyllic life of warmth and prosperity that this great country offers. One such adventurer, is Charlotte Pedersen, International Dressage rider and accomplished dressage coach.
Hailing from Denmark in northern Europe, (a country smaller than the size of Tasmania!), where 5 million people reside, Charlotte found life very relaxing, with residents very friendly and easy to get on with. A very peaceable country, Denmark is uniquely known as the world's 'happiest nation', (Daily Mail).
When asked about when her love for horses began, Charlotte's passion shines through from the first.
"I started riding when I was eleven. My friend started riding and I am an animal lover, so it was just something I wanted to try. As soon as I started, I was hooked! I gave up all other sport and music that I had done so far. I still love it."
Picking up the sport mainly due to her love of horses and for the fun and joy it brought her, competing was pretty far from her mind. However, as she progressed, she turned her hand to competition.
"Since I was riding at a riding school, I saw the competitions that they had going on there, so I started competing. It wasn't serious – it was just for fun."
As equine lovers, we all well know, however, that horses are both addictive and good for the soul and it soon became obvious to Charlotte that it was something she wanted to pursue.
"Later on I did an apprenticeship to become a riding instructor. It took me six years", a career that Charlotte thrives on and embraces to this day.
"I was just happy to train horses and compete a bit. When I came to Australia, everybody was talking about going to the Olympics, so I started thinking a bit more about that. I have never just wanted to go to the Olympics, though. It was the training and coaching that was important to me."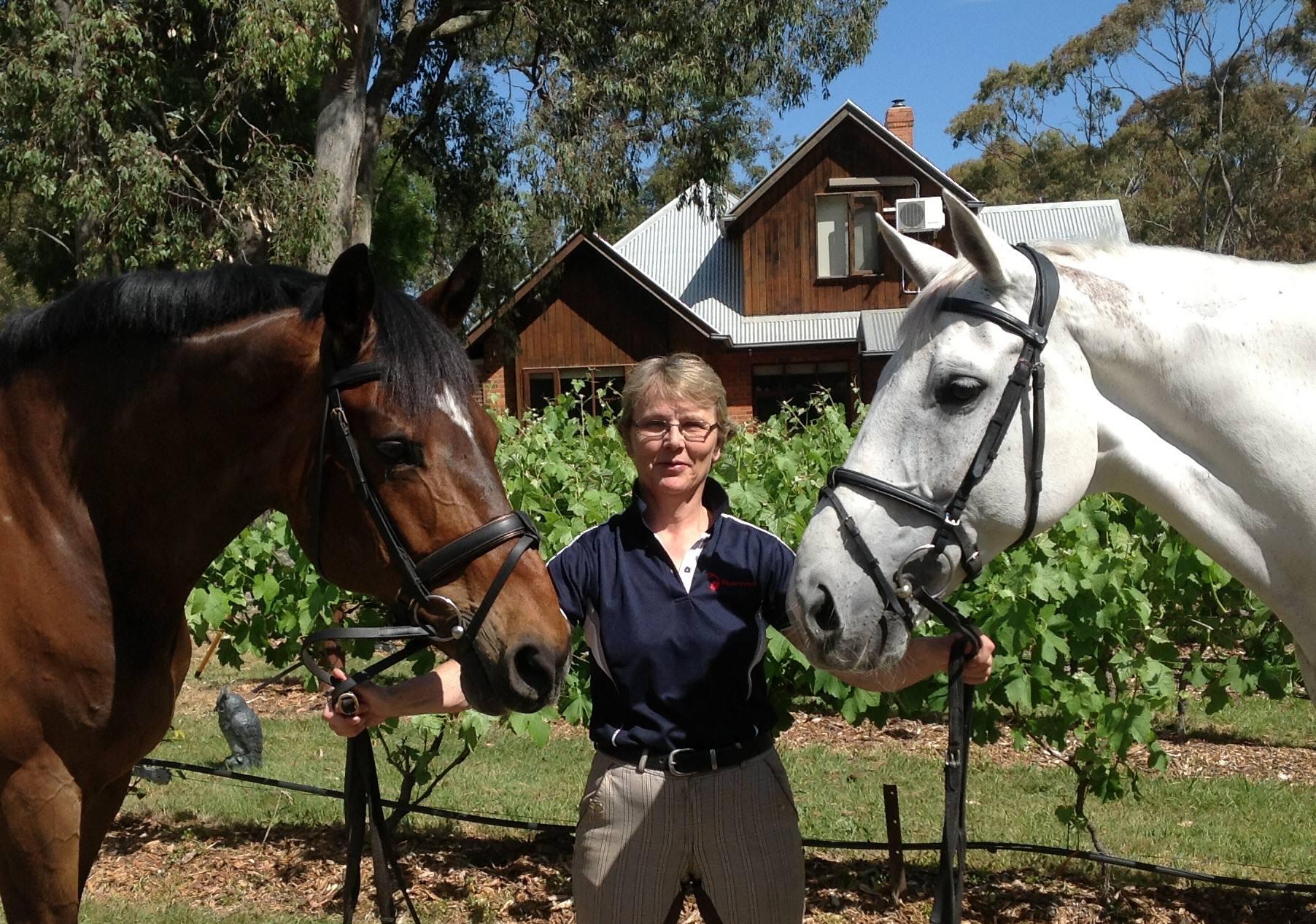 After finishing her apprenticeship to become an instructor, Charlotte came to Australia for a six month holiday.
"The father of a friend of mine was teaching out here and they told me I needed some coaching experience, so I got in touch with him. I ended up living with a Danish family just outside Melbourne, at Glen Brae Equestrian Centre. I loved it straight away and also earned good money – so I decided to stay for six months more."
What was a holiday, soon turned into a way of life for Charlotte and she was lucky enough to meet husband Rob here in Australia, who she later married. "I have never regretted the decision to stay. I love it here."
In 2009, she headed to the state championships in Tamworth, NSW and competed Come to Me, owned by Lady Clarke. Winning the International Eleven Championships, she received her highest score for GPF with a 69%!
"I felt I was really on top. The same year I won GPS at the Nationals. That would have to be the biggest achievement of my career."
Charlotte and Rob now live in Macedon on a beautiful property running an Equestrian centre and vineyard. Charlotte offers agistment, training of horses and instruction. With a few part time staff to help out, she still finds the time to travel interstate for competitions.
"I do enjoy teaching... It feels great to be able to teach people how to get more out of their horses so they can enjoy riding them. I think that's the most rewarding feeling you can get. I also love training horses myself. If you have had a bad day, then you can go, ride your horse and you kind of forget all the trouble you have. I really like that."
Teaching is something Charlotte thrives on and she can be seen at her property or around Victoria teaching dressage riders of all abilities to raise their game and enjoy the sport to their fullest potential. Some of her classes end up competing at the top levels alongside her too and it gives Charlotte a sense of achievement, she says, to be surrounded by people that she helped get to where they are.
∞
So when Charlotte was first introduced to Peter Horobin saddles, it was through her friend who urged her to try riding in one.
"She got me to try one and after that, I was hooked. She told Peter that I had a super horse (Come to Me) and that he should sponsor me and he did!"
The way the saddles felt when Charlotte was riding in them made a huge difference to her. She said, "I like a saddle to feel as if you have had the saddle forever, even if it is brand new. It should feel comfortable straight away. That is what Peter's saddle felt like straight away. I also like that he could fit the saddle to the horse – I had never had that before."
The flexibility to adjust really made a difference to her and her horse. Owning two Amazone saddles and a Liberty, and patiently waiting for to try the kitzbuhel she has one for each of her three horses. She says of her equine pals, "All three are so different, so that's why they have their own saddles. The Amazone I have on my mare has helped her a lot. I have tried other brands but none compare. Peter kept helping me to find the right fit for her, so now the saddle sits perfectly. She works a lot better. I do also like the new Amazone. There is a lot of shoulder freedom for my mare, which she needs as she is a very big horse. The shoulder freedom in all the saddles is fantastic. It makes it easier for the horses to go uphill and not get sore."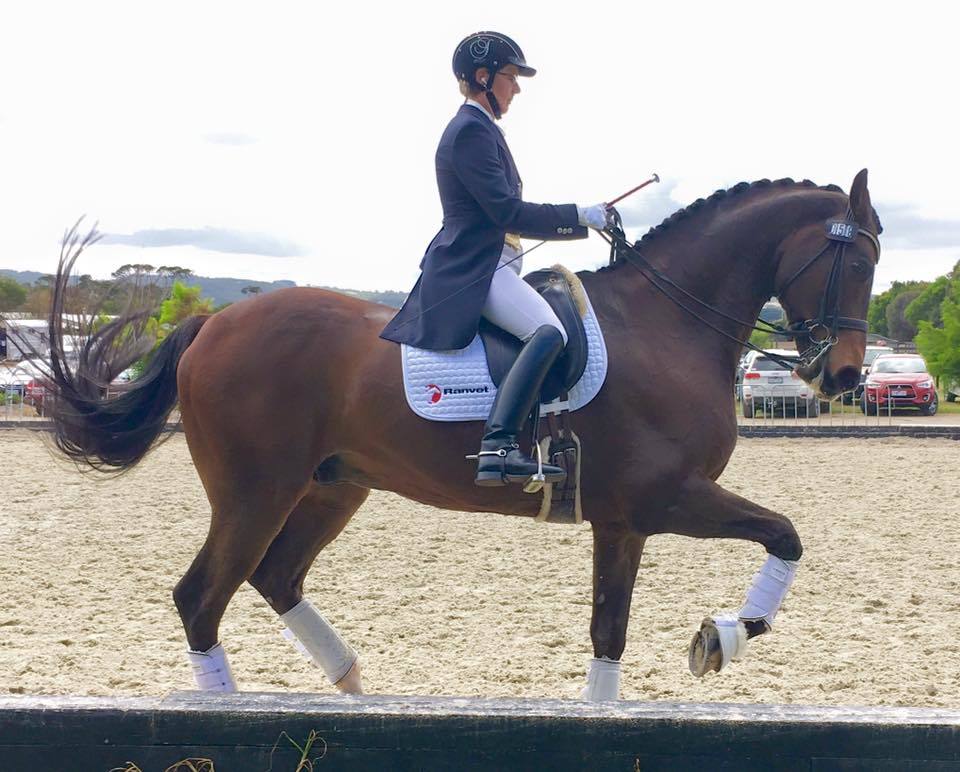 Not only are the saddles comfortable for the horses and the rider, they are also aesthetically pleasing and are considered some of the finest crafted saddles in the world – a point which Charlotte herself agrees; "I really like the look of the saddles. They look very elegant and the leather is so soft."
To own a correctly fitting saddle is everything, especially when you are in the saddle for long periods of time and are looking to get the best from your horse.
"To have a correctly fitting saddle and good bridle is the most important thing for the horse so that we can get the best out of him or her. To me it is very important to have a saddle for each horse, as each horse is different. One might need a narrow gullet and another a wider as it might be a big warmblood compared to a finer thoroughbred. If I know the saddle is a great fit for the horse, I feel confident to ask the horse to work at its best and the same goes for myself. If the saddle is a good fit for me, I am then able to give better aids as I can keep my position better. It gives confidence to both me and my horses."
Looking forward to the rest of 2017, Charlotte has her three exciting prospects for competition this year.
"My beautiful mare is called Jazzmin. I bred her myself. She has been a bit difficult and also difficult to fit a saddle to, but by working that out with Peter, she has started to work so much better. So I am a bit excited about her and hope to get her to FEI level this year. I also have a beautiful stallion Baunehojens DiamondDancer, which I train for Rosenbjerg Stud who owns him. He has been very successful at medium level and I am looking forward to also go FEI with him later in the year."
Her star pupil, Come to Me is currently making his way back to Grand Prix level after taking three to four years to overcome extensive injuries. Standing at 17.2hh, she says warmly of him, that he is her favourite horse and is beautiful, gentle and amazing to ride. With some serious competition over the years against the likes of Judy Smith and Heath Ryan – friends who Charlotte has competed against throughout the years, competition has been fun and challenging and that extra challenge from other riders helps spur her to ride at the top of her game and achieve as much as she can in the dressage ring.
One thing is for sure, Charlotte is set to have a great 2017 competing and continuing to teach some amazing up and coming young riders through the dressage ranks. Alongside beautifully fitting Peter Horobin saddles that compliment each one of her horses individually, Charlotte is all set to make her mark this year yet again.